The Door in the Wall by Marguerite de Angeli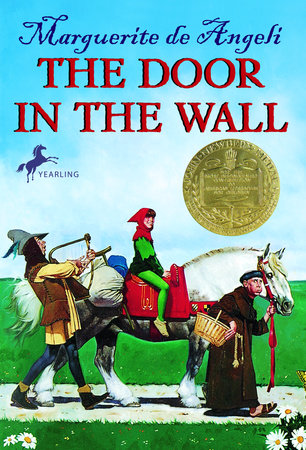 This book does not have chapters, so I will label them by "sections." Each section begins with a drop capital (where the first letter on the page is larger than the rest of the letters). Contains affiliate links. 
Section 1
The Door in the Wall Study Guide and Lapbook ($1.99)
Porridge with Honey (or Barley Soup, rabbit stew, or fish)
Interactive map of medieval London
What did John-the-Fletcher do? (6 minutes)
Play Hoodman-Blind or hide and seek
Make a Gratitude Journal
The plague (for kids) (3.5 minutes)
Section 2
What Do Monks Do All Day (6.5 minutes) (Suggested by Courtney W)
The Door in the Wall Unit Studies and Guides
If you feel your child is capable, you might consider looking into a wood-whittling kit.
Younger children can use soap and plasticware (9 minutes)
Soup made with bay and marigold, or other fragrant herbs, with dark bread for dipping
The Plague and Medicine in the Middle Ages by Fiona McDonald
Section 3
Marguerite Makes a Book (Book, read aloud, 22 minutes)
A look at monk's rooms in medieval times (6 minutes)
Make a writing quill using straws
Section 4
A Medieval Cathedral by Fiona MacDonald
Go fishing and swimming
Printable checkerboard (can be played with light and dark round stones)
Section 5
The Sanctus (3 minutes)
Medieval travel (10 minutes)
Fresh bread, bacon slabs, cheese, dry herring, lark, and rabbit pastry with herbs and saffron, apples, plums, pears, and grapes. 
Section 6
Medieval Inns/Taverns (12 minutes) (Does talk about alcoholic beverages)

Extra Read-Alouds/Readers
You Wouldn't Want to Live in a Medieval Castle by Jacqueline Morley
You Wouldn't Want to Be a Medieval Knight by Fiona MacDonald
You Wouldn't Want to Be in a Medieval Dungeon by Fiona MacDonald
You Wouldn't Want to Live in the Middle Ages by Fiona MacDonald
You Wouldn't Want to Work on a Medieval Cathedral by Fiona MacDonald
Lift the Lid on Knights activity box by Straum Reid
The Making of Knight by Patrick O'Brien
Sir Cumference and the 1st Round Table by Cindy Neuschwander
Section 7
Make foam noodle swords and spears to have a tournament
A Punch and Judy show (contains some violence as per the norm)
Pease porridge and bread
Embroidery kit (learn stitches)
Section 8
None
Section 9
Section 10
A Christmas Feast by Aliki (Video)
Song from page 119 (Angels We Have Heard on High)
Castle with David Macaulay (part book, part documentary)
Extras
Sequels: There are no sequels to this book, but there are a handful of other books by this author, some of which (Thee, Hannah; The Skippack School) have been used by Sonlight either currently or in the past.  
Credits: 
I relied heavily on this webpage for ideas and thoughts.