Red Sails to Capri by Ann Weil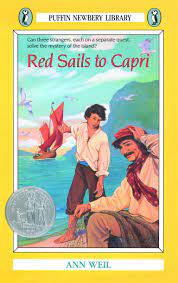 Extra Activities to go along with Red Sails to Capri.
Chapter I
***NOTE** The Guide mentions showing your children The Blue Grotto, but I would suggest saving it for the very ending, as it is a major spoiler to the story. I will include some a video down below. 

How to Pronounce Lira

(in the chapter title, and at end of the chapter)

How to Pronounce Angelo

(I wasn't sure if the G was hard or soft in Italian)

How to Pronounce

Jacques

Tiersonnier

(Frenchman in the story, I couldn't find the last name on its own without it sounding very American)

How to Say Très Beau

(I couldn't find a good one with just the words I needed)

I could not find the recipe for this, but I love this idea. I'm imagining it with tomato slice sails.
Chapter II
Chapter III
Chapter IV
Video of the steps to Anacapri

(you need to look carefully because while the steps are alongside the road for part of the way, the majority of the steps go down the side of the mountain

A

photo view

of how the steps line the mountain

The book claims there are 784 steps to Anacapri. Many online sites claim there are 921 stone steps (and more steps that are not stone, making close to 1,000 steps total).  If you have a staircase in your house, you can quickly calculate how many times you'd need to go up the steps to equal the trip to the top of the mountain (of course, the stone steps are wider and harder to navigate, but it's a fun comparison).Using 784 steps, as the book claims, here are some estimates based on the number of steps you have. 12 steps-66 times; 13 steps-61 times; 14 steps-56 times; 15 steps-53 times. You can also use 921 and get: 12 steps-77 times; 13 steps-71 times; 14 steps-66 times; 15 steps-62 times.
Chapter V
Extra Picture Book Set in Capri, takes place during a wind storm as in this chapter
Chapter VI
Chapter VII
Somebody made a

playlist of songs to cook a soft-boiled egg

to. 

Each of those songs is just under 5 minutes. But this time varies based on where you live, elevation, etc. Here it is around 6 minutes. See if you can find longer songs you like to boil eggs to or cook other foods.
Have your child try cooking a meal (like soft-boiled eggs) they've seen done before but never tried, without instructions. You can help cook, but experiment to see how easy it is to make something you've never tried before.  
Chapter VIII
Chapter IX
Chapter X
Extras: 
There is no sequel to this book, but

the author

has several other great books for children. 

The King of Capri

is a great, easy and fun book to add on. It takes place on the Island of Capri, and Naples, and involves a very strong wind with a personality. 
Cute Lego stop-motion video of Red Sails to Capri (1.5 minutes)