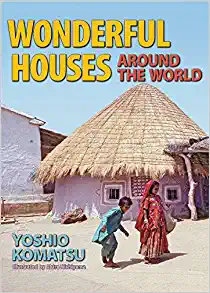 Pp 2-5
Video of a modern-day family putting up a yurt. 
Yurt activity in HBL B Hands-On History Kit
Yurt Craft
Look inside a modern-day yurt
Pp 6-9
A look at Chinese Tulou homes (mentions live-action Mulan movie from Disney)
Pp 10-13
A look inside a Sumbanese Traditional House 
Pp 14-17
A look inside an Indian Bhunga House 
Pp 18-21
A fun look at Muramures culture and homes (although not exactly the ones in the book)
Pp 22-25
Pp 26-29
A look inside a Spanish cave house
Pp 30-33
A breathtakingly beautiful video of a Tambermian house, but the video is not in English. (A helpful commenter informed me it was in French. Thank you!)
Pp  34-37
A look around a Casamance home
Pp 38-41
A look at the Chipaya people, including their homes. In Spanish, but with English subtitles.